As people's living standard continues to rise, they are paying more attention to their living quality, and people's life is more and more exquisite. High-quality life needs exquisite decoration to create a warm and comfy and attractive environment. Pottery plant pots fit to decorate any style of environment, which is not unreasonable to be loved by modern people.
When you are in the market for the porcelain plant pots designed for that purpose at a garden center or other place, as a layman, it is difficult to choose the pots in ideal style and quality. Besides, they are thousands of cement flower pots manufacturers in the market. Looking for the professional garden pots manufacturer is a task to be taken lightly before investing. That's why Ancooly Gardening comes in and gradually stands out from the numerous competitors. WHY?
Let's reach out to ANCOOLY GARDENING!
Ancooly Gardening is a plant pot manufacturer from China majoring in the design and production of plant pots for sale. Our designed and manufactured products are mainly related in the the following areas:
- Material: Cement, ceramic, terracotta
- Style: plant pot marble, retro flower pots, hand-painted for cement flower pots, Nordic style plant pot, glazed ceramic planters.
- Product application: Indoor, Outdoor, Windowsill, Wall , Desktop, Floor,Bathroom
Garden, Hotel, Company, Family.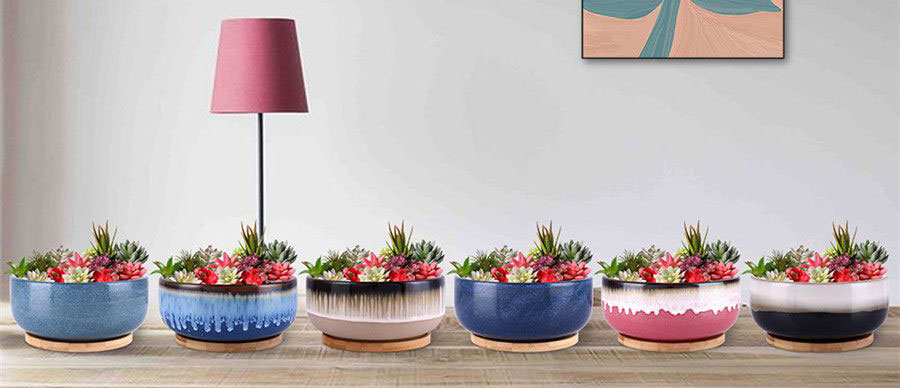 What we have?

- 12 years of ceramic production experience:

With years of ceramic production experience, ANCOOLY has been mastering a variety of molding craft technologies, such as Rolling, High Pressure, Grouting, etc. Combining the industry's advanced spray painting, carving, kiln change and other technologies, we launch new planters every month.

- 26 production lines

Ancooly has been dedicated to manufacturing ceramic flower pot for years. With 26 Production lines, our factory can match to different forming requirements and surface treatment requirements at the same time.

- Accept OEM/ODM for planter

With strong production ability (26 Production lines), Guangzhou Ancooly Gardening LTD is confident to accept OEM/ODM for planter.

- Strict quality inspection

At Ancooly, an experienced staff master the most effective testing methods and our pots are guaranteed to conform to the strictest standards.

Through our superb technology, we make every efforts to ensure end designs that speak of quality and we use only high-quality materials to ensure our pots are long-lasting.

- Various style and design

Our flower pots comes with various style, shape and color. Traditional craftsmanship integrating new elements enables us to develop and launch new plant pots every month. Here you will find both classic and modern options for displaying your plants, including pots and plant stands.

- 8000 square meter workshop

The workshop is large enough to accommodate a complete set of production lines, such as forming, repairing, firing, quality inspection, warehouse and other processes.

You will be in good hands with ANCOOLY for discussing your unique planter pot.

Tags: cement flower pots manufacturers, ceramic pots manufacturer, plant pots for sale